It's happened again!
Your skin has become irritated and bumpy after what you thought was a quality shave session.
As one unfortunately knowledgeable with the bane of razor bumps, you likely are familiar with falling victim to the annoyance that is only made worse by additional swipes of your razor.
Razor bumps or razor burn, whose technical term is pseudofolliculitis barbae, are pimple-like protrusions that develop after shaving. These pesky dermatological ailments can completely ruin the intended clean-shave look of a recent razor session.
Worse still, if not properly treated, razor bumps can eventually turn into permanent scar tissue, broadcasting the issue for the rest of your life.
In order to get to the solution of what can be done about this annoyance, we must first understand what causes razor bumps, the different types of razor bumps, what can increase the susceptibility to razor bumps and razor burn and hot to predictably prevent them from forming.
What causes razor bumps?
The rise of the modern beardsman is likely due, at least in-part, to the struggle many men have with the entire process of shaving. Shaving takes time out of your day. Shaving is recurring. For most of us, shaving is just a simple chore and fact of life. It's not enjoyable, it's neutral. But for many men (and even some women), the act of shaving is associated with pain, blemishes and frustration.
Not everyone is accustomed to a smooth, post-shave experience. For many men and women, shaving has very negative connotations and side-effects.
Razor bumps most frequently occur when hair which has been cut below the surface of the skin attempts to grow. When this occurs, the below-the-skin hairs often do not have a direct path to the surface and so they frequently will grow sideways or back into the skin directly.
These in-grown hairs can create very uncomfortable and unsightly bumps often referred to as razor bumps or razor burn.
Razor bumps are more common among those with curlier facial hair as the hair tends to grow many more directions than out.
Razor bumps are not only uncomfortable if left untreated, they can cause scarring to occur. This is especially noxious for those who tend to get razor bumps directly on their face.
If this is you, or you are afraid this could eventually be you, it would be wise to visit your dermatologist to get an expert opinion.
It's likely a bit obvious to state that your shaving is causing the razor burn and razor bumps you are experiencing. However, it is important to understand "how" your particular shaving hardware, your personal uniqueness and your technique may be causing the uncomfortable and ghastly bumps you are experiencing.
When facial hair is cut at or below the surface of the skin, it leaves the follicle susceptible to growing back toward (and not away from the skin surface). When this occurs, the hair follicle can swell into red lumps that look like a zit or pimple.
Different types of shaving tools, techniques and hair itself can contribute to this recurring annoyance.
What are the different types of razor bumps?
Two different types of razor bumps exist.
Extrafollicular razor bumps occur when the hair curls around and grows inward without ever existing the surface of the skin at all.
Transfollicular razor bumps occur when the hair actually exits the skin before it curls back on itself to grow inward. When this occurs, you can sometimes see the remaining exposed hair.
In both cases it may be a temptation to squeeze the inflamed area or remove the exposed hair with a pair of tweezers. Unfortunately, doing so may result in greater irritation and further exacerbation of the issue.
What makes me susceptible to razor bumps?
While razor bumps know no sex, ethnic or racial boundaries, they are not equal-opportunity inflict-ors.
Men are more susceptible than women. Men typically shave more frequently which increases the probability of recurrence and facial skin tends to be more sensitive to razor bumps.
According to a poll conducted by the American Academy of Dermatology, 78% of men had experience some form of irritation as a result of shaving. In short, it is a common problem, especially in males.
African Americans are also more susceptible to razor bumps and razor burn. While only 20% of Caucasians have experienced problems with razor bumps, varying sources claim that up to 80% of Blacks of experienced some form of razor bumps.
Black men are particularly more sensitive to razor bumps as their more curly facial hair tends to curl back on itself and cause some of the issues discussed above. Razor bumps are thus less common among those with straighter facial hair.
In addition, darker skin is also more prone toward scarring in the event that razor bumps remain untreated–further exacerbating a compounding issue among the African American population.
Why Do Black Men Get Razor Bumps?
Regardless of your skin color, recurring razor bumps and razor burn can impact any shaving man. Unfortunately, razor bumps are not an equal opportunity infliction. The vast majority of men inflicted with razor bumps are African American. Consequently, black men often require more vigilance in both what they use to shave and the techniques they implement in their regular shaving routine in order to prevent razor bumps and razor burn. What follows is a discussion as to why black men are more susceptible to razor bumps than other ethnicities and a few tips on how to prevent razor bumps in the future or deal with existing razor bumps.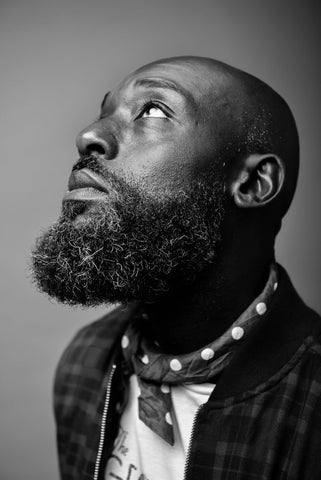 Curly Hair = Razor Bumps 
In its most simple description, curly hair is much more likely to become ingrown, creating the razor bumps more frequently seen in black men. White men with tightly curled hair will also experience a higher propensity toward razor bumps.
Razor bumps are most often the direct result of hairs that have been cut too close (or even below) the surface of the skin.
For those with naturally curly hair, hairs cut too close to the surface are more likely to grow back toward the surface of the skin. When this occurs, razor bumps form. For those with naturally curly hair (like black men), the hair is more likely to grow inward, resulting in uncomfortable and unsightly razor bumps, pustules and burn on the surface of the skin. If not properly treated, these blemishes caused from improper shaving combined with naturally curly hair can create lasting scars on the face.
The Journal of Investigative Dermatology has found that curly hair is some 50x more likelyto become ingrown than straight hair. Furthermore, the study found that not only is the susceptibility toward ingrown hair and razor bumps higher as a result of having curlier hair, but that there is actually a gene present in those susceptible to razor bumps that is not present in those who do not regularly experience the discomfort of razor bumps. Unfortunately, the natural probability of having razor bumps is included in the genetic code, which just happens to occur  more regularly in black men above most other ethnicities.
Scarring from Razor Bumps on Black Skin 
When hairs are cut both at or below the surface of the skin, the likelihood of seeing those hairs become ingrown is much greater on a black man than his white or Asian counterparts. If not properly treated, the body has its own defense mechanism for dealing with razor bumps: it produces collagen. Collagen is produced to aid the body in the healing process. Unfortunately, however, the production of collagen can also lead to keliod scarring later. Keliod scarring occurs when collagen expands into tissue outside of the area of the razor bump itself. This type of scarring can spread far beyond the initial area where the razor bumps first occurred, which can be devastating for aesthetics.
Worse still is that keloid scarring is often more noticeable and unjust on men of color than those with lighter pigments. These facts should make the prevention and cure of razor bumps for black men a top priority.
Razor Bump Prevention and Treatment Tips for Black Men 
Regardless of the genetic hand dealt when it comes to the susceptibility toward razor bumps, there are some simple steps that can help prevent the onslaught of razor bumps before they have lasting scarring effect on the face and neck. The following basic steps should at least be initially helpful in preventing razor bumps as well as getting black men on a track toward long-term shaving that prevents skin irritation from resurfacing for years to come.
Grow a Beard. This may not be the most desirable option for every African American man, but it's certainly the most simple. Luckily, beards are back in fashion these days.
Avoid Shaving Close to the Skin. The closer the hair is cut to the surface of the skin, the more likely you are to continue to see razor bumps. Luckily, some stubble is less noticeable on black men than on men with lighter skin with dark hair. In most cases, this means only performing a one-pass shave.
Ditch the Cartridge Razor. Switch from your multi-blade cartridge razor to a safetyrazor or straight razor. Cartridge razors are notorious for cutting hairs below the surface of the skin. They also give everyone the same close shave. Based on #2 above, you will be able to use your safety razor to customize the length of your facial hair when you shave. For instance, you may only opt to take a single pass when you shave. Your hair may not be baby-butt smooth, but that sure beats bumps and scars.
Avoid Shaving Against the Grain. Shaving against the grain can irritate the hairs and typically cuts the hairs much closer to (if not below) the surface of the skin. In order to know how the direction of your hair growth, I would suggest mapping out your facial hair growing patterns to know what direction your facial hair grows. We are all very different in this regard. Once you know which direction your facial hair grows, you can simply avoid shaving in the opposite direction. It's a super simple fix, really.
Practice Proper Shave Preparation. The best and most comfortable shaving experiences come from proper preparation. Prepare well and prepare wisely.
Moisturize Post-Shave. Proper hydration after you shave can help prevent the irritation that can cause the onslaught of razor burn. Get some good post-shave lotion.
Perhaps the best advice for black men looking to avoid razor bumps is this: do a single pass shave using a safety razor, only shaving with the grain.
If you continue to see razor bumps forming after taking some of these simple steps, stop shaving immediately and consult your dermatologist to see if there are other measures that may be advised and helpful for you in your path toward more flawless skin.
Luckily, we help provide many of the products that help prevent razor bumps from forming. Take a look at our wet shaving products and start shaving like a real man
How to prevent razor bumps from forming
As the saying goes, an ounce of prevention is worth a pound of cure. The best defense against razor bumps includes the tools and techniques that will give you a close, high-quality shave.
Heat the face. Moist, heated hair is easier to sheer off. It also helps open the pores in preparation for the shave. Heat your face with a warm, wet towel.
Work in a good shaving cream or soap. Using a quality shaving cream or shaving soap is helpful in the preparation for your shave. A pre-shave oil can also help to prepare the area and prevent future irritation.
Use a sharp safety razor. A dull razor will increase the potential of razor bumps. So will a cartridge razor. The very design of your cartridge razor may be the source of your razor bumps. Such disposable razors are designed in such a way that the first blade lifts the hair away from the skin while the second blade sheers it–often below the surface of the skin, which greatly increases the likelihood of razor bumps. Make sure you have a safety razor. Make sure it is sharp.
Stick with the grain. While going against the grain can help you get a closer shave, going against the grain will increase the likelihood of razor bumps. With a safety razor you can make multiple passes, but until you are comfortable with its ability to go against the grain without irritating and causing bumps, stick with the grain.
Exfoliate the skin. Exfoliating post-shave is a critical step, particularly for those with curly hair that may grow back in. Exfoliating sometimes require a good scrub to help open the pores and allow the hair to grow outward instead of inward.
Apply tea tree oil. Using a standard antiseptic like tea tree oil will help to exfoliate the skin and open the pores. Traditional after shave can include alcohol which tends to irritate and create more issues for those with facial hair prone to bumps. Your pre-shave oil can also be used as a post-shave solution here as well.
Close the pores. Using a cold, damp cloth against the skin after you have completed your routine can help close the pores and prevent issues from reoccurring.
Home Remedies for Razor Bumps
While you can't control genetics, you can certainly make changes to your routine on "how" you shave to ensure you are doing everything to avoid the bumps in the first place. Here are a list of home remedies for clearing up your razor bumps.
Single Blade Razor
First and foremost in your quest to prevent razor bumps is getting a high quality single blade razor. You could use a double-edged safety razor or the straight razor of your choice.
Multiple blade cartridge razors may be the direct cause of your razor bumps. Their very operational design increases the probability of razor burn. The first blade pulls the hair follicle away from the skin and the next blade chops the hair off. The more blades in the cartridge, the more this simple process is repeated. This "pull and chop" technique increases the probability of your hairs being cut-off below the surface of the skin, increasing the likelihood of in-grown hairs.
The first step in your home remedy for avoiding razor burn is to ditch your expensive disposable cartridge razor for something more rudimentary.
Hot Compress 
Soak a quality cotton towel or terry cloth in hot water and press it against your face. This simple process will open up the pores in your face.
Open pores will give your hair follicles more room to grow outward instead of inward. Your hair needs more room to breathe. A daily hot towel compress can help facilitate this need.
Witch Hazel
As a natural antiseptic, witch hazel can help to reduce inflammation of the skin.
Witch hazel should be applied directly to razor bumps. It can be used at any time, pre or post shave or at any time of the day to help reduce inflamed skin in the area of your razor burn.
Aloe Vera
Aloe Vera can come in a gel or the natural plant version can be helpful in reducing skin irritation brought on by razor burn.
The plant version is likely best as many gels include artificial fragrances and colors that can cause further irritation. However, there are brands that exclude artificial colors and added scents.
If you happen to have an Aloe Vera plant in your home, remove a leaf and squeeze it until it produces a gel-like liquid. Squeeze and apply directly to the affected area.
Aloe Vera is a long-standing remedy for irritated skin and can work well in combating the effects of your razor bumps.
Cortisone Cream
Hydrocortisone cream is a cortico-steroid that helps to greatly reduce inflammation in the skin. Similar to witch hazel, cortisone cream includes ant-inflammatory properties for relief of the symptoms of razor bumps and razor burn. However, the steroids can work better and more quickly than simply using witch hazel.
White Tea
The tannic acid contained in typical white tea can help reduce inflammation in the skin. Simply wet a bag of white tea and place it on the affected area of the skin.
Tea Tree Oil 
As a natural essential oil, tea tree oil is a strong anti-bacterial tool for helping to reduce the irritation, particularly when infection has occurred. However, the naturally strong nature of the tea tree oil is likely too concentrated. Add water to the tea tree oil before applying to the skin. If not, the oil may actually burn your skin.
Lemon Juice
A component of your skin's irritation as it relates to razor burn is due to the bacteria makings its home in the in-grown hair follicles. The acidic properties of lemon juice can help to reduce the bacterial infection incident to your razor burn. Apply lemon juice to the razor bumps to help reduce redness and prevent further infection.
Your best bet at tackling the problem of recurring razor burn/bumps is to change the way you shave, including the tools you use in your daily routine. If prevention does not work, some of these home remedies for combating the razor bumps should prove helpful.
What home remedies have you implemented to prevent and remedy your razor bumps?
Get Rid of Your Razor Bumps Forever!
For those with existing razor bumps, it is best advised to give it time before jumping back into the shave game. Your best course of action is likely to take a break for a week or two, giving your skin time to heal and for the bumps and irritation to work themselves out. Then, get yourself a nice safety razor kit and start shaving like a real man.
For those who have tried and failed, you would be well-advised to visit your dermatologist and get a professional opinion on prescription (e.g. a prescription retinoid gel) that may help to clear up the issue.
Best of luck, happy shaving and hopefully this helps you in your quest to avoid unsightly and uncomfortable razor bumps.